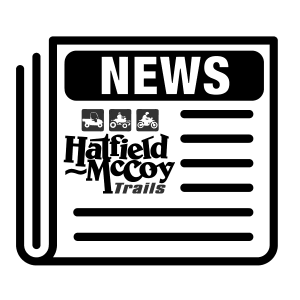 Hatfield-McCoy Trail permits are available for purchase on our website at https://trailsheaven.com/get-a-permit/
Permits that are purchased online will be mailed out Certified and will take approximately 5-7 business days to be delivered. Permits mailed Certified must be signed for when delivered at home or picked up at your local post office.
Permits are also available for purchase through our Hatfield-McCoy Trails Approved Permit Vendors. See full list of Permit Vendors here! https://trailsheaven.com/permit-vendors/
Please note that all Hatfield-McCoy Trails' trailhead parking areas are open; however, the trailhead, Welcome Center and Visitor Center facilities remain closed during this time.
For those guests visiting the Hatfield-McCoy Trails, please remember the following guidelines:
When visiting our local businesses and communities, please remember to wear appropriate face coverings, practice social distancing, wash your hands often and follow the CDC recommendations and guidelines. It is important that everyone stays safe and healthy so that the Trails and local businesses can continue to operate and move forward. Ignoring these precautionary measures may result in closing down the Trails for an extended period of time.     
While the trails offer outdoor recreation opportunities for both in-state and out-of-state visitors, it is important to maintain proper physical distancing and safety precautions, even while out in the field. The following guidance has been issued to ensure riders remain as safe as possible.
PPE: Riders are encouraged to wear appropriate face coverings or face shields while stopped. All riders, by law, must wear a helmet while riding.
Self-screening: Riders are encouraged to self-screen for COVID-19 symptoms with the following questions:
Have you been in close contact with a confirmed case of COVID-19?
Are you experiencing a cough, shortness of breath, or sore throat?
Have you had a fever in the last 48 hours?
Have you had new loss of taste or smell?
Have you had vomiting or diarrhea in the last 24 hours

Temperature checks: Riders are encouraged to take their temperature prior to arriving at the trails. If their temperature measures over 100 degrees, the riders are not permitted to enter the trails.
Sick riders: Any rider or visitor who exhibits COVID-19 symptoms (i.e., answers yes to any of the screening questions or who is running a fever) must leave the trails immediately and seek medical care and/or COVID-19 testing, per CDC guidelines.
Limit groups: Riders are prohibited from congregating on the trails.
Physical distancing: Practice proper social distancing, minimum of six feet where practical and safe to do so.
Shared vehicles: Riders are discouraged from sharing a UTV, ATV or Off-Road dirt bike with anyone outside their immediate group or party.
Shared equipment: Riders are discouraged from sharing safety equipment or appropriate face coverings.
For questions or concerns, please call our Main Office at 800-592-2217, Monday-Friday between 8:00am to 4:00pm. Please note that we are operating with limited staff and appreciate your patience.
Happy Trails!