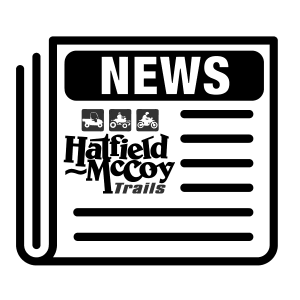 The Warrior Trail System is now open. Permits and merchandise are available on-site between 9:00am to 2:00pm. Permits may also be purchased in the City of War at: War Town Hall, War Home Center and Coalfield Café. Permits may also be purchased at Eva's House in Gary, WV. Construction of the Warrior Trailhead facility is in progress.
The Hatfield-McCoy Trails Staff are currently working with land owners to offer a community connector trail to the City of Welch from the Warrior Trail System. Stay tuned for more updates!
Trail 14/Delbarton Connector on Buffalo Mountain has reopened.
The Town of Gilbert will host TrailFest on October 4th – 8th. Visit https://trailsheaven.com/trailfest/ for registration and more information.
The Hatfield-McCoy Trails Field Crew will begin construction of the Twin Falls Connector soon. This connector will access the town of Mullens, WV which connects to the Pinnacle Creek Trail System.
The Entrepreneurship and Business Coaching Center of Southern West Virginia Community and Technical College will be hosting a FREE QuickBooks workshop on September 26, 2018.For more information, please call 304-752-3255.