Rockfort Cabins offers a choice of 25 cabins located in the town of Lyburn, WV surrounded by majestic mountains and overlooking the Guyandotte River. This is the perfect place to ride, relax, and enjoy the great outdoors. Lyburn is located approximately 5 minutes from the town of Man.
Located in the heart of the coalfields, Rockfort Cabins guests are 20 minutes from the Hatfield cemetery where Capt. Anderson "Devil Anse" Hatfield is buried. He was the leader of his clan in the famous Hatfield & McCoy feud. A life-sized statue modeled from photographs and imported from Italy marks his grave.
Rockfort Cabins is conveniently located within a ¼ mile of the Rockhouse Trail System. Rockfort guests have direct access to the Rockhouse Trail System without trailering their machine. Rockfort Cabins guests have access to over 300 miles of The Hatfield~McCoy Trail Systems (Rock House Trail, Devil Anse Trail and Buffalo Mountain Trail). The Rockhouse Trail System connects to the Devil Anse Trail System and the Devil Anse Trail System connects to the Buffalo Mountain Trail System near Williamson. Once you unload your machine, you do not have to load them back up until you are ready to go home!
Visit us on Facebook- Appalachian Outpost
We look forward to having you stay with us, getting to know you and sharing our slice of West Virginia heaven with you.
Be sure to check out our other on-site amenities!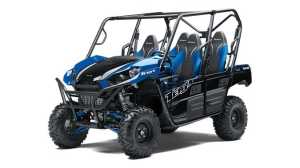 ON-SITE Rentals- BAC Country ATV Rentals: Click here to rent a machine! 
The Broken Axle Restaurant & Bar
Par Mar Gas Station