The Hills of West Virginia are starting to bloom and that means it's time to get you, your family, or crew Ready to Ride! Before you hit the trails, even if you are an experienced rider, be sure you have the necessary equipment and gear you need. Remember, all Hatfield McCoy Trail riders are always required to wear a helmet and protective eyewear. Over the ankle footwear and gloves are also strongly encouraged for ATV riding. These basic items, along with a jersey and riding pants or water-resistant pants, not only offer greater protection than, "everyday" clothes, but also make riding much more comfortable.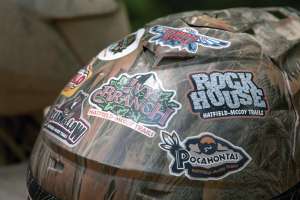 What you wear off the trail is as important as what you wear on the Trail!
Make sure you complete your adventure with a change of clothes and a fresh Hatfield McCoy T-shirt. The riding gear is encouraged because it protects you from the elements – including branches, bugs, mud, and dust- that may come your way. If you crash your ATV you'll be glad your head, eyes, and body are protected!
---
Suggested Check List For What you Need on the Trail:
Permit – Make sure you have your permit here first!
Helmet (DOT approved)
Protective eye wear – goggles preferred but sunglasses or safety glasses are acceptable
Over the ankle footwear – boots preferred but high top sneakers are acceptable
Long, water-resistant pants are suggested, shorts are accepted, but not encouraged
Snacks and water are also suggested
Trail maps
Cell phone
Suggest Check List For What You Need Off the Trail
Dry/Clean change of clothes
Change of shoes/socks
Toiletry Bag to freshen up
Towel
---